Shopping Cart
Your Cart is Empty
There was an error with PayPal
Click here to try again
Thank you for your business!
You should be receiving an order confirmation from Paypal shortly.
Exit Shopping Cart
Musical Experiences For Children
Educational Storytelling Incursions for Children
Dynamic Workshops for Educators and Parents
| | |
| --- | --- |
| Posted on March 16, 2014 at 8:45 PM | |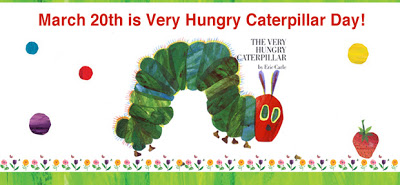 Many would say "The Very Hungry Caterpillar" is THE most loved picture book in the world, and I think I may have to agree! That marvellous munching Mr Caterpillar will be chewing his way through lots of wonderful activities and events with children all around the world, with the happy day ~March 20th~ being The Very Hungry Caterpillar Day! 

I always like to bring music and movement into my early childhood teaching programs. I have some gorgeous little rhymes and action songs about butterflies and caterpillars on my new double CD audio resource (brilliant to be able to hear the melody and then have the actions, lyrics and complementing learning experiences written in the songbook - available for purchase in my Web Store), but I have such a big repertoire of sweet little rhymes and finger plays, I will share some of my favourites with you now!


"The Fuzzy Caterpillar" - a rhyming fingerplay

(to the tune of Incy Wincy Spider)

The fuzzy caterpillar

Curled upon a leaf,

(*finger draws a little circle on palm of opposite hand)

Spun her little chrysalis

And then fell asleep.

(*two little pointer fingers spinning around and around)
She dreamed that she could fly,
And later when she woke up
(*little hands turn into a butterfly flying high)
____________________________________

"A Caterpillar Lifecycle" - a musical scarf activity
(to the tune of The Wheels on the bus) 
Provide each child with a scarf. The children lay down on their scarves and then wriggle around like caterpillars trying to keep the scarf under them.    
Sing: The caterpillars are wriggling all around, all around, all around. The caterpillars are wriggling around, all around the garden.
The children then roll into a ball and cover themselves with their scarf - just their head if the scarves are small)
Sing: The caterpillars are building their cocoon, their cocoon, their cocoon. The caterpillars are building their cocoon and now they're fast asleep, shhhh!
Wait a few moments while the children are very quiet in their cocoons.
Sing: The butterflies are flying high and low, all around, up and down. The butterflies are flying high and low, until they rest on the ground.
Children will be using their scarf to fly like a butterfly all around the room, but at the end have to come and sit down quietly.
______________________________________

"Roly-poly caterpillar" - an action rhyme
Roly-poly caterpillar

(wiggle right pointer finger)

Into a corner crept,
(crawl finger up yor arm into your elbow nook)

Spun around himself a blanket
(spin your body around)

Then for a long time slept.
(go into a ball and place head on folded hands)

Roly-poly caterpillar
(hold out and wiggle right pointer finger)

Wakening by and by,
(wake up and stretch)
Found himself with beautiful wings
Changed to a butterfly.
(flutter arms like wings)
_______________________________________
"The fuzzy caterpillar"  - a story to tell with finger and hand movements
Once there was a caterpillar fuzzy as could be,
He ate and ate and ate all the new, green leaves.
(wiggle finger with a pipecleaner attached to show his "feelers")

And when he was finished and could eat no more,
He made himself a chrysalis that didn't have a door.
(hid him inside your hand)

While inside this chrysalis, he began to change,
The fuzzy caterpillar would never be the same.
(wiggle the finger in the hand)

After seven days, he broke out and my oh my,
The caterpillar he had been was now a butterfly.
(turn hands into a butterfly)
________________________________________
"Little Caterpillar" - a story to use with a miniworld set up
(props and puppets are lovely with this story)
The little caterpillar crawled up into a tree,

Spun his cocoon and slept so quietly,

All through the winter he didn't make a sound,

He dreamt of his new life when he'd be flying all around.

While he was sleeping the snow did gently fall,

Winter came and went, then he heard the robin's call,

Come on Mr. Butterfly, out of your cocoon

Spread your wings and fly for me, while I sing my tune.
(use a little bird whistle here if you have one!)
<3 Rebecca xox

Categories: None
/